Would you like to take your favourite mount to a race? Would you like to transport your steed for recreation purposes using a horse trailer? Not sure what kind of licence is required for that? Not sure with what vehicle you can tow your horse trailer with? In our previous blog post we provided helpful tips on transporting livestock and travelling with horses on horse trailers. In our current blog post we are looking for the answer to what kind of licence and vehicle is needed to tow your horse trailer.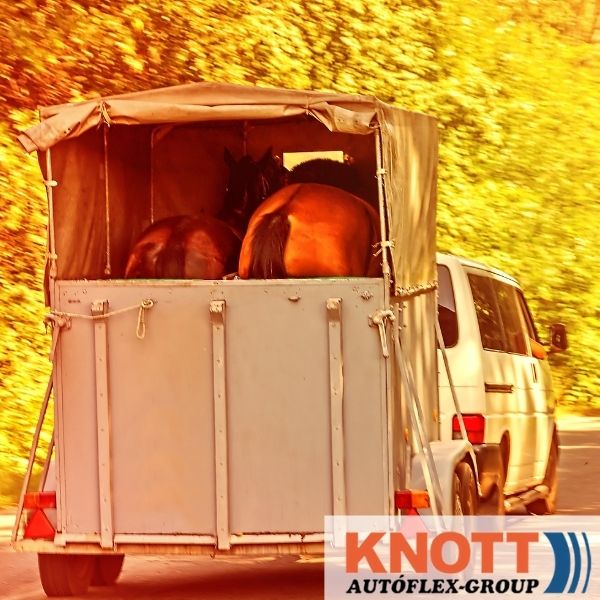 What licence is required for using a horse trailer?
In most cases having a category B licence is enough for towing. But there is a licence that makes horse transportation easier and cheaper. This is the B96 category licence. This covers the towing of heavy trailers with a category B vehicle, where the total mass of the towing vehicle and the towed trailer is between 3,500 kg and 4,250 kg.
Who can apply for a B96 course?
Those who already have a category B licence. Those who have already turned 17 years old. But it is also possible to apply if one is six months younger than 17 and applies for a combined B and B96 category licence. Furthermore, on the basis of a written statement one must comply with the traffic safety conditions specified in Government Decree no. 326/2011. (XII. 28.).
How long does it take to complete the B96 category licence?
The course consists of 6 hours of theoretical and 6 hours of practical sessions, culminating in a 1 hour long exam.
What is the weight limit of the horse trailer that can be towed with a category B licence?
The weight consists of the car and the (heavy) trailer with a maximum permissible gross weight of 750 kg. One of the conditions that must be met is that the maximum towable weight of the trailer does not exceed the trailer maximum weight specified in the registration book.
The other condition is that the total mass of the towing vehicle and the towed horse trailer may not exceed 3,500 kg. That is, under no circumstances may it exceed 3,500 kg if you want to drive the combination of the vehicles with a category B driving licence. If the total mass of the vehicle combination exceeds the limit of 3,500 kg, a B + E licence is required. An exception to this is the holder of a B96 licence who can drive a vehicle combination of up to 4,250 kg.
Furthermore, there is another caveat, namely the maximum weight of the trailer equipped with an overrun device cannot exceed the maximum permissible weight of the trailer stated in the registration book of the vehicle.
What speed limit do we need to comply with in case of a horse trailer?
With a combination of a motorized vehicle and a trailer – in this case a horse trailer – the maximum permitted speed limit is 80 km/h on motorways, 70 km/h outside built-up areas and 50 km/h in built-up areas.
What are the steps that we have to perform before each departure when inspecting a horse trailer ? We have dealt with this in detail in a previous blog post.
Before you depart, make sure everything works perfectly on your horse trailer. If you need any Autóflex-Knott trailer parts, you can buy them in our webshop or order them at rendeles@autoflex.hu or at our domestic sales line at +3676502058.