We have already talked about the primary and the secondary connection points between the trailer and the towing vehicle in detail. So, here comes the last member of the trio, whose main task is to make this cohesion even stronger. Of course, these parts are also available at Autóflex-Knott along with other parts that you are going to need to drive safely with your trailer.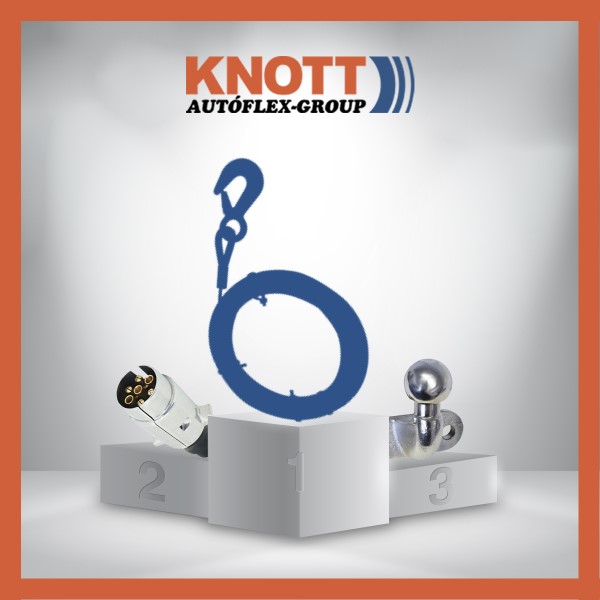 This third connection, as usual, is perhaps less well known, but it is very important. In addition, its operation is not necessarily obvious and it maybe be difficult to find proper instructions for it. You may have heard that on the connection between the vehicles there should be a fail-safe. However, it is important to know what to use as one.
A wide range of wire ropes and chains are available at Autóflex-KNOTT
If we are looking for parts for a fail-safe, we first need to know what is appropriate for the trailer you own. For trailers without brakes, the situation is relatively obvious, as only wire ropes and chains can be used here. Their function is to prevent the trailer from separating from the vehicle should it become unhitched.
How to use the chain link safely?
It is advisable to check its condition before each use.
Make sure that the chain is not twisted.
If you notice any defects, consult a specialist.
Subject the chain or wire rope only to the permissible load.
Make sure they are stored and cared for properly.
In case of defects (wear, damage, elongation, deformation), replace immediately.
According to EU standards the use of a breakaway cable is mandatory
Nowadays, there are only a few traditional old oil-braked trailers that are still "tolerated", but under the new EU regulations, no vehicle registration certificate may be issued for them. On today's modern vehicles the use of a breakaway cable is required. One end is connected to the towing vehicle and the other end is connected to the parking brake (hand brake) of the trailer. If the trailer becomes unhitched, this rope pulls on the parking brake and then breaks away, so the trailer has come to a stop, unaffected by the towing vehicle. Therefore, it is forbidden to replace this part with any other rope or chain.
You can find quality parts for safe and efficient operation of trailers and caravans in the Autóflex-Knott webshop, or you can place an order at rendeles@autoflex.hu or by calling our domestic sales line at +3676502058.