We have written so much about the various parts and their uses that slowly everyone has put together the trailer of their dreams, at least in their heads. But the goal is to put it together in practice. However, before we actually put the vehicle into use, Autóflex-Knott will help you understand the relationship between the trailer and the towing vehicle.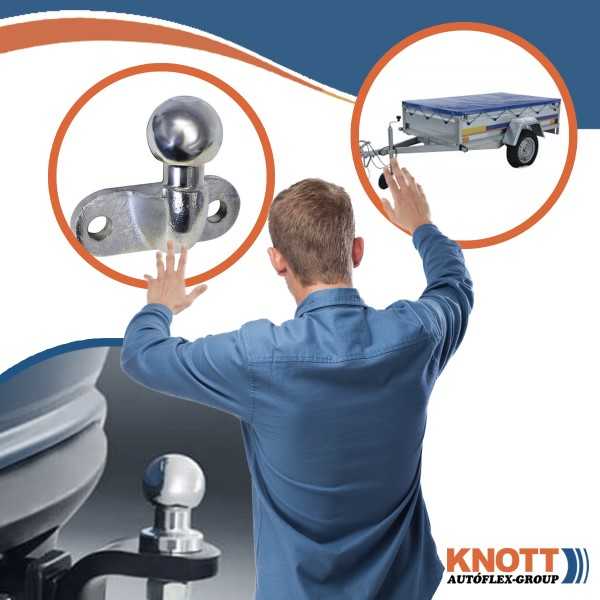 The formula is seemingly simple, but let's not get ahead of ourselves. What does the connection between the two vehicles: the towing vehicle and the trailer consist of?
Our trailer is connected to the car on several layers. There is a mechanical, an electronic and a safety connection, these work together to ensure reliable operation. The first, basic connection is on a physical level, which is the towing ball. We just attach the trailer and we are ready – is our initial thought but let's stop for a moment!
What is a towing ball?
The towing ball and the proper coupling head are the mechanical point of connection between the vehicle and the trailer. In principle, we should not deal with the ball. Although Autóflex-Knott used to manufacture tow bars but this is no longer the case. However, since we are concerned about a reliable connection, we also need to think about it. Where two metals are connected (at least in general) there is a high chance that both will wear out during use, so they should be checked regularly. Since the wear indicator is only on the coupling head and wear of both components occurs here, it is important to know that the ball can only be checked by measuring it.
What types are there?
Nowadays, there are also towing balls on the market that can be attached to and detached from their support structure with a few quick moves. We call it a detachable towing ball when it can be removed from the vehicle without any special tools or expertise. The dimensions and the detailed design of the coupling heads are not standardized, but its technical examination is strictly regulated. Only a coupling head that meets the requirements of static and fatigue tests may be used.
How should we use it?
The general technical requirements now require the coupling head to be locked automatically when the towing balls is connected. Most of the coupling heads currently on the market have and indicator that indicates whether the tow bar is on or off and also warns if the structure is excessively worn as a result of use.
You can find quality parts for safe and efficient operation of trailers and caravans in the Autóflex-Knott webshop, or you can place an order at rendeles@autoflex.hu or by calling our domestic sales line at +3676502058.