When preparing the trailer for spring, we should also consider the trailer axle. When you think of the basic function of trailers, which is transportation, you realize that the soul of your vehicle, which bears the load, is the axle. This central component is subject to the greatest load and what is in use, gets worn out, sometimes fails and even gets damaged when exposed to abnormal effects. Fortunately, Autóflex-Knott has all the small accessories or even complete axles so you do not have to give up your transportation needs.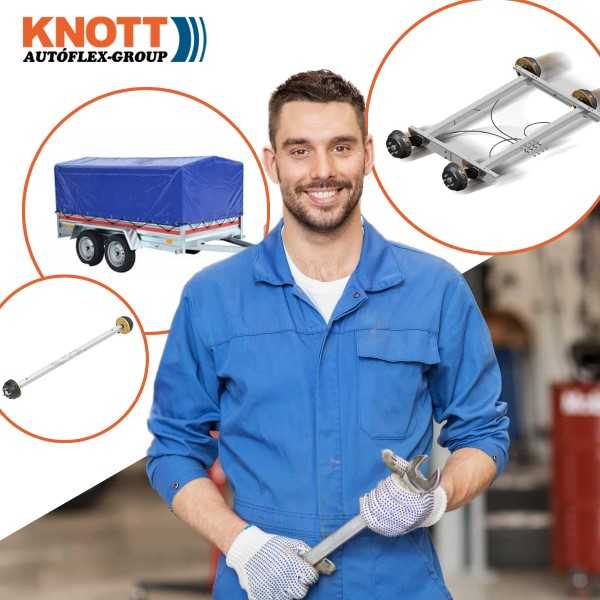 People who carry out minor inspections and maintenance on trailers(we have written about these here and here before), can also suffer annoyances when they hit potholes, try to turn in place with a heavy load or perhaps suffer an accident. In these situations, there is mechanical damage. It cannot be repaired by conventional means. Here only the replacement of parts will help. (It is forbidden to straighten or weld them at home!!!) It is expensive but worth it for your own and for the other road user's safety. The condition of the axles is particularly important.
Briefly about trailer axles
Depending on the application, they have to carry different types of loads, so they can be manufactured with different types of suspensions: leaf springs, torsion axles, spiral springs, air springs. At Autóflex-Knott we can make any axles from soft spring to various hardness, standard and custom suspensions.
How to take care of the trailer axle?
The axle of our trailer, as the most burdened element of the structure, is subject to countless challenges and even those careful owners who carry out regular (seasonal, periodical) maintenance may find an unexpected surprise. What is in use gets worn out and sometimes fails. But problems can also be caused by circumstances beyond our control, such as potholes on the road, sudden changes in temperature or an accident.
What should we do if the trailer axle is damaged?
If there is specific mechanical damage or defect on the axle, do-it-yourself straightening and welding is not only dangerous but also prohibited. The only solution is to replace the faulty parts. Although it is not cheap, it is inevitable to ensure our own safety and that of other road users.
Trailer axle repair with new parts only
At Autóflex-Knott we usually say that the complete repair of one side of an axle costs about 60% of the price of a new axle. However, it is important to note that we do not install used or brought parts. Repairs will only be carried out using factory new parts.
Attention! In the event of repair, the axle must be removed and must be brought to us fully assembled with all the components. So, you must not disassemble the brake drum or hub, because it is needed for measurements and to find the fault.
If you are in need of any Autóflex-knott trailer parts, you can purchase them in our webshop or you can place an order at rendeles@autoflex.hu or by calling our domestic sales line at +3676502058.