The winter season may be less favourable for regular trailer use. However, once the snowy, icy, slippery roads are gone, more and more people start using this practical and economical way to transport freight. Before we set out on the road intoxicated by the scent of spring, it is worth inspecting our trailer again, especially if it has not been used at all during the winter. In case you have skipped the winter maintenance of your trailer, you may want to go through the steps as written in our Prepare your trailer for winter use article.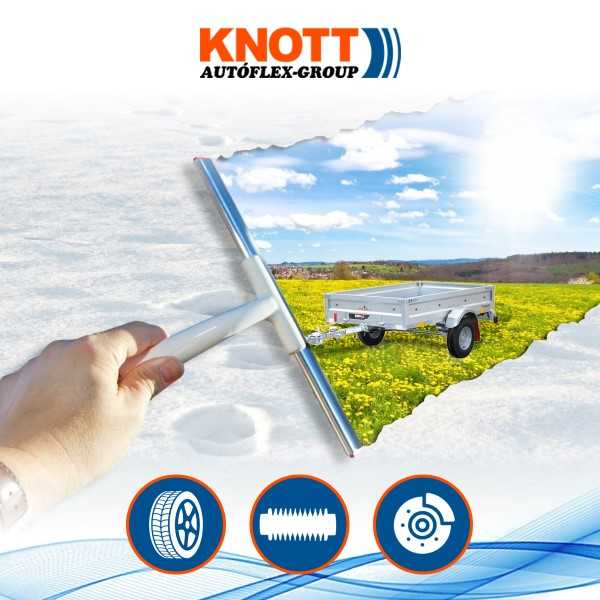 Here are some of the most essential things to check when it comes to spring preparation recommended by Autóflex-KNOTT technicians:
Trailers on intact wheels
The most important thing that can be checked by simple visual inspection is the condition of the tires themselves. A simple gauge is sufficient to check the air pressure, but detecting external damage of the wheels does not require any special expertise either. A good eye is enough to spot damage on the rubber.
Take a look at this in case of braked trailers
Particularly delicate places are, for example the rubber bellows (behind the coupling head) and brake cable covers which should be thoroughly examined. This brings us to checking the trailer brake settings which should be done in the spring as well for safe driving.
Brake adjustment regardless of the season
We need to pay attention to good brake adjustment in all seasons as it is important that our trailer does not "shove" our car and we can come to a stop in time. We went through the key steps of the brake adjustment in our 8-point checklist for adjusting trailer brakes article which takes you through it step-by-step so you can do the inspection and adjustment of the breaks easily.
Just as a reminder, you should always start with the brake adjusting screw found on the back of the brake plate after lifting the trailer and loosening the physical connections. (Except in the case of automatic adjustments. In this case a large yellow sticker is affixed to this axle as a warning with ANS inscription as well as a "KNOTT auto adjust" label on the dust cap.) Then go through the remaining steps of the 8-point checklist.
Trailers have souls too.
Many people turn to us saying the following: "The trailer just stood there all winter (in the worst cases for many years) and now I need it right away". Unfortunately, we can not conjure up a new axle or a major axle repair right away. Planning is important and keeping in mind that the trailer is only of help if we also give it what it needs in time: regular and careful maintenance. In return, the trailers will thank us with carefree ride experience.
If during the spring inspection you need any Autóflex-KNOTT trailer parts, you can purchase them in our webshop or order them at rendeles@autoflex.hu or by calling our domestic sales line at +3676502058.