The superstructure of the trailer is the world that provides the widest usability for the entire vehicle. While at Autóflex-Knott we can move any superstructure, you can obtain complete superstructures and sidewalls from specialized companies, trailer manufacturers. However, trailer owners and manufacturers can find many accessories in our extensive stock of products and our professional service guarantees that you get the best quality and durability for your needs.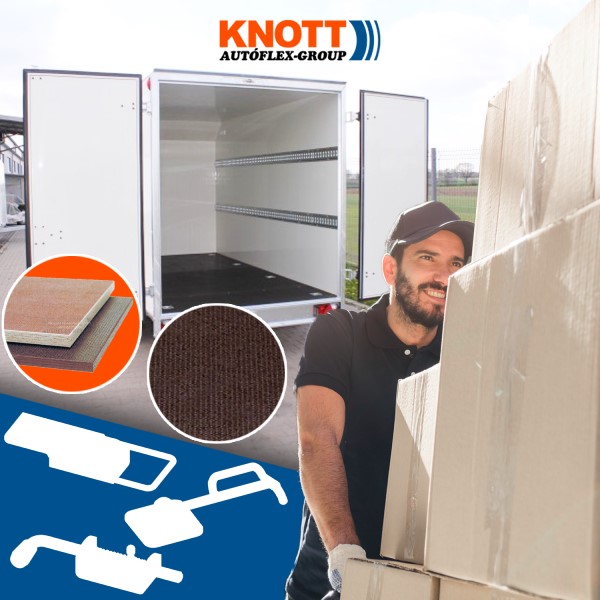 Plywood in various sizes at Autóflex-Knott
Plywood is the foremost and most substantial part of the superstructure. Literally, because it is one of the biggest parts we provide for the users due to its size. We call it slip resistant plywood, but according to jargon, it can also be called platform material or impregnated plywood. Autóflex-Knott has a wide range of these in stock. For example, we have 9-12-15-18 mm thick plywood and each comes in three different board sizes: 1,500×2,500, 1,500×2,500 and 1,500×3,000 mm. We also offer plywood in two special sizes: 12×2,150×4,000 and 21×1,250×2,500 mm.
High-quality, durable parts for a long-lasting superstructure
Thinner sheets are recommended for sidewalls, thicker sheets are recommended for the platform itself. However, it is important to emphasize that when buying (as with many other products) we should not be overwhelmed by low prices, but rather follow the value for money and purpose guideline when choosing the product. There are some that are made from a mix of several kinds of wood waste. As a result, these products are weaker and less durable.
Platform materials available at Autóflex-Knott are made exclusively of rigid birch, slip resistant on one side, coated with phenol film on both sides and edges are handled. They are waterproof, guaranteed to withstand the harshest weather, do not swell or warp. They are heavy duty and very durable.
It also increases the service life if we choose platform fasteners, door locks and over centre latches that fit our product which can also be found in stock at Autóflex-Knott.
Get the accessories you need for the superstructure of your trailer and other trailer parts from our stock at Autóflex-Knott. You can purchase them in our webshop or order them at rendeles@autoflex.hu or by calling our domestic sales line at +3676502058.