Coupling heads as structural components can primarily be used for motor vehicle trailers. An important parameter is the rear part of the housing as it is here that the drawbar gets connected. Due to their importance in road safety, it is worth paying special attention to the inspection of the coupling head when preparing the trailer for winter. Autóflex-KNOTT Kft. has standard coupling heads in stock and we provide a solution for special needs as well.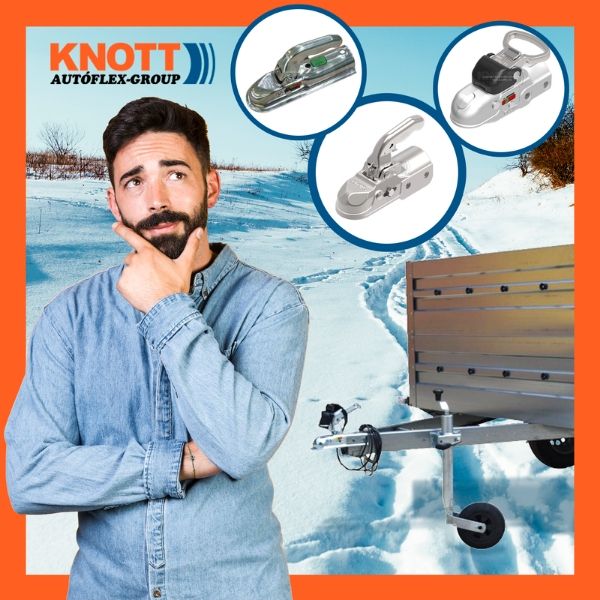 Whether it is a standard coupling head for conventional trailers or a special coupling head for boat trailers, horse trailers or even caravans, Autóflex-KNOTT Kft. has got you covered. We also offer coupling heads for light and heavy trailers since we produce Autóflex-KNOTT coupling heads from 750 kg to 3500 kg load capacity.
Coupling heads for unbraked trailers
In case of unbraked trailers, the coupling heads are divided into two large groups: one for coupling heads used up to 750 kg of load capacity and the other for up to 1400 kg. We strongly recommend the stronger one because it allows safe towing even when it is difficult to estimate the total weight of the trailer. Both types are available in square and round versions. We manufacture coupling heads for D =50, D = 60 and D=70 mm pipes alike, the same is true for those mounted on hollow section.
Coupling heads for braked trailers
Of course, we install Autóflex-KNOTT coupling heads on all our overrun devices (drawbars), so we also provide spare parts for them. When ordering spare parts, the datasheet on the overrun device is a big help because it contains a lot of information which helps the identification. For example, it is important what direction the mounting screws of the coupling head are facing, even the size of the screws is important and they may not even all be of the same size. Also, the diameter of the coupling head with which it is mounted on the overrun device is also important.
Safety on the road
We will also share an important tip with you concerning coupling heads which will significantly increase safety. If you want to avoid the dangerous sideways movement of the trailer, learn about the KNOTT Stabifix coupling head stabilizers which can easily be retrofitted on your trailer.
Have you prepared your trailer for the winter?
As we prepare our vehicles for the winter, let us not forget about our trailers either. To prepare the trailer for winter, we have complied a 8-point checklist, one element of which is the inspection of the coupling head.
Choose Autóflex-KNOTT Kft. quality coupling heads and properly prepare your trailer for the winter. If you need any Autóflex-KNOTT trailer parts, you can buy it in our webshop or order it at rendeles@autoflex.hu or at our domestics sales line +3676502058.