Cannot wait to finally ride again? Maybe you want to take your four-legged pet to competitions? A horse trailer is expensive, but it is worth investing in as there can be plenty of times when a trailer is indispensable for horse owners. Whether you choose a new or a second-hand one, there are many things you need to look out for in order to transport your horse safely. How to choose the ideal horse trailer? What to look our for when shopping? We are looking for the answer to this in our current blog post.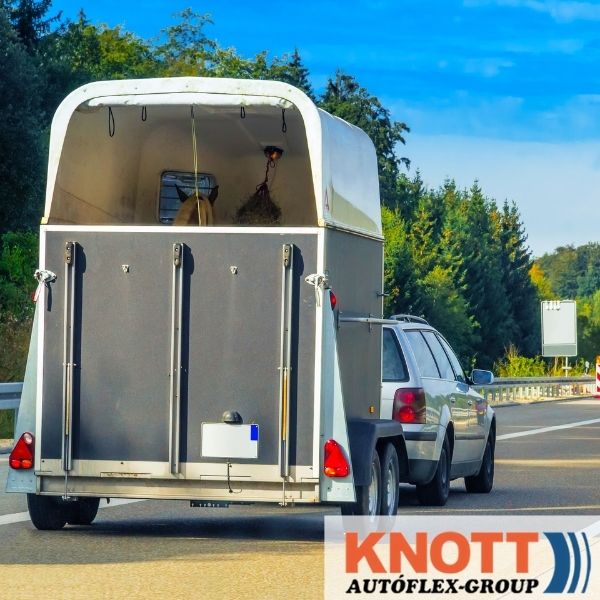 Choosing a reliable horse trailer
What should we take into consideration when choosing one? First of all, it needs to be clarified exactly what model you need based on you want to transport with it: one or two horses and also a carriage or a coach.
Pay attention to what the total weight of the trailer that the towing vehicle is permitted to tow is. Also, you need to keep in mind whether you are allowed to drive the car and trailer combination with the given licence. If the total weight of the car and the trailer exceeds 3,500 kg, a category B + E licence is required. If the total weight is less, a category B licence is sufficient.
What material do we want the horse trailer to be made of? After all, it can be made of wood, plastic or metal. What should the roof be like? Tarp or even plastic can be used. Will you be able to store it indoors? If not, then only a hardtop plastic horse trailer can be considered.
What to look out our for when purchasing a second-hand horse trailer?
Be sure to inspect the axles, the brakes, the draw bar, the tires and the lights. You may want to take the trailer for a test drive and seek professional help before making a purchase. Keep in mind that if the draw bar is damaged, it will probably need to be re-inspected by the authorities.
You need to check the condition of the tires, the brakes and the lights not only before purchase, but as a horse trailer owner before every departure. What other tasks do we have in connection with inspecting a horse trailer? In our previous blog post we have explained this in more detail.
In addition, you need to inspect the platform for any holes or cracks. The ramp requires special attention as it is also an important part of the trailer. Also make sure you have every accessory. What are these? The divider wall, the upholstery, door lock and the surveillance system.
Before you depart, make sure everything works perfectly on your horse trailer. If you need any Autóflex-Knott trailer parts, you can buy them in our webshop or order them at rendeles@autoflex.hu or at our domestic sales line at +3676502058.