What matters when choosing a trailer? What do you need to pay attention to? Are the size of the trailer and the category of your driver's licence related? Is the more expensive one always a better choice? Is a two-axle or a single-axle trailer better? If you are also looking for the answers to these questions, read on since in our current blog post we talk about how to choose the ideal trailer.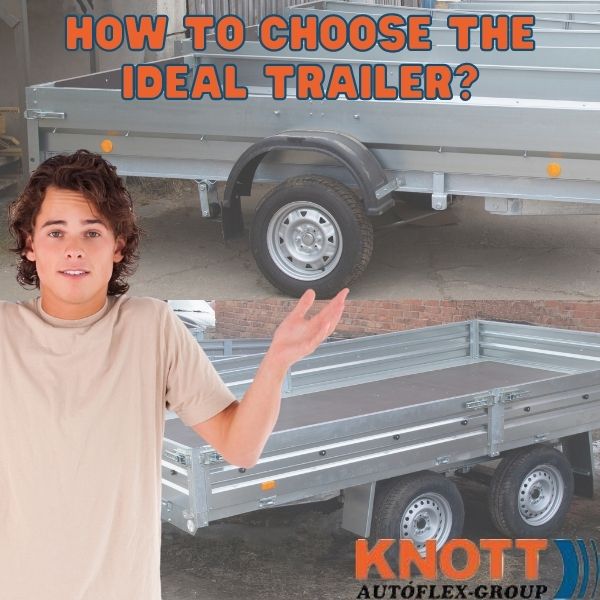 Is the more expensive one the better?
Most people think that if they have the money for it, they would rather buy the more expensive trailer. If it's more expensive is it definitely better? Will it serve your needs? Unfortunately not necessarily. In general a more expensive design is also bigger and we may not be able to use its capacity. Fuel consumption increases with size and it will even put a heavier load on your car.
How should you choose your ideal trailer?
Always base your decision on what you will use it for since you have to buy the appropriate size.  The parameters in your vehicle registration certificate indicate how much weight your car is able to tow. Alternatively, your driver's licence can intervene as you can only use a trailer with no more than 750 kg weight if you have category B license. If you are wondering about what rules should be followed when using a trailer, then read our blog post about it.
Is a two-axle or a single-axle trailer the better choice?
Both have advantages and disadvantages. The advantage of single-axle trailers is that they are cheaper than their two-axle counterparts, but their disadvantage is that it is more difficult to distribute the weight and load them. The two-axle versions are usually more expensive, but have the advantage that all four wheels can be braked.  Why is this beneficial? If one of the tyres gets punctured, you do not have to stop right away, you can continue for a limited time.
When making a choice the decisive factors are always the load and the degree of weight
Choose an unbraked trailer if you carry less weight with it. The big advantage of this is that it is not so sensitive to stress as there are fewer parts in it that can wear and be damaged. Braking distance on the other hand can increase in case of unbraked trailers.
Does the location of the wheels matter as well?
Absolutely. Here too, weight will be the key factor when making a decision. If your cargo is heavier, a low-bed trailer is the solution where the wheels are located on the sides. For lighter cargo, a high-bed trailer, where the wheels are located under the bed is the perfect choice.
If you need any Autóflex-Knott trailer parts, you can buy them in our webshop or order them at rendeles@autflex.hu or on our domestic sales line at +3676502058.