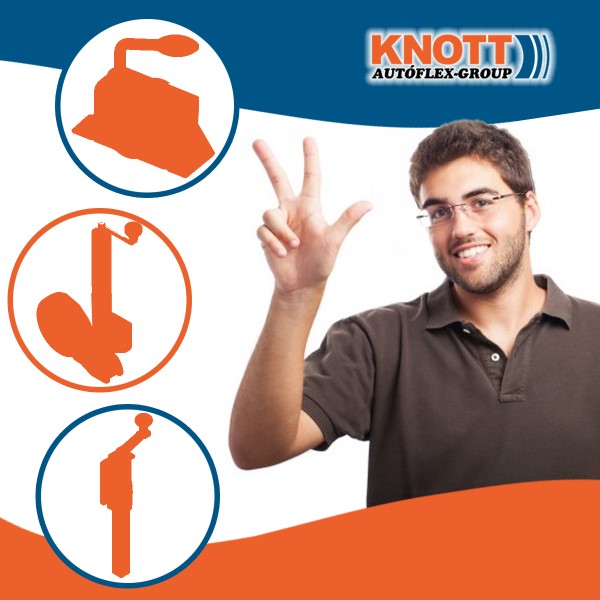 New trailer owners or inexperienced renters would think that most difficulties are caused by driving and manoeuvring the trailer. Of course, special attention should be paid to driving but at least as much emphasis should be made on the stationary stabilization of the trailers. In addition, for business users our products play a key role in for instance supporting sale stands.
Fortunately, trailer manufacturers also place grate emphasis on using high-quality, secure and durable trailer parts. To complement this, Autóflex-KNOTT Kft. offers manufacturers and private individuals top quality, easy to install and extremely stable trailer parts which can be found in every third trailer in Europe.
The first prerequisite for safe towing is a suitable car for the job. For towing a light-weight trailer – less than 750kgs – a category B driving license is sufficient. After a few test drives, drivers will realise that some extra attention is needed when overtaking, cornering and changing lanes for a smooth driving experience. In the case of bigger trailers, we can make things easier with the right weight distribution and loading.
Parking is also as important as making headway
However, in addition to making headway, the stabilization of trailers is important when storing, equipping and moving them independently. Proper support for fixed units is paramount, to spare the wheels and springs and to assist with the coupling and moving of or storing the trailer when uncoupling.
Prop stands for stable parking
Prop stands play a vital role in parking the trailers as they prevent the trailer from rolling away or overturning. They essential for our business clients as well. At fairs and festivals there are many sales booths with Autóflex-KNOTT parts: hot-dog carts, barrel shaped beverage dispensers, mojito vendors. Of particular importance here are the various supporting elements which are in most cases "mandatory" when the total weight is constantly on the vehicle.
Procedure for trailer coupling
Smaller trailers are easiest to attach to the vehicle when empty, by folding up the prop stand and hooking up the drawbar to the hitch ball with the latch lifted. Once locked, it is worth checking whether the locking is stable. Some of the models weighing more than 750kgs can be coupled when loaded by precisely reversing with the hook under it and using a jockey wheel.
Jockey wheels and jockey wheel clamps
As a responsible driver, we don't want our uncoupled trailer to tip over and want it to stay in place stably. That is why it is important to be able to put an uncoupled trailer in its place easily. This manoeuvre is most effectively accomplished with the jockey wheel. Of course, there are many varieties and qualities of this product (with and without wheel, height adjustable or fixed, operated from the side or the top) so that Autóflex-KNOTT Kft. customers can use the most appropriate tool for their trailer. The jockey wheel clamp can be used to secure the jockey wheel for maximum stability.
You can order high-quality and easy-to-install prop stands, jockey wheels and jockey wheel clamps for stabilizing your trailers, caravans and sales stands at our domestic sales line +3676502058. If our customer service is busy, at rendeles@autoflex.hu or in our webshop.